The ESA space probe Rosetta has successfully landed a lander on a distant comet today. Futher information can be found at:
http://www.esa.int/Our_Activities/Operations/Live_updates_Rosetta_mission_comet_landing
Tweets by ESA_Rosetta
http://www.dailymail.co.uk/sciencetech/article-2831125/Rosetta-mission-broken-thruster-computer-glitch-scupper-today-s-historic-landing-comet-67P.html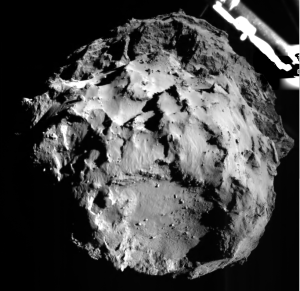 Comet 67P, on which the Philae probe successfully landed. Due to the minimal gravity, Philae secured itself to the surface of the comet with a harpoon and landing screws.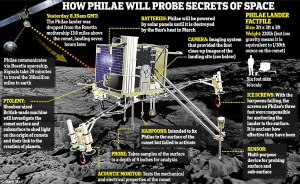 Congratulations Rosetta team!