So, I am now an official rocket scientist. A great many things have happened over the past month.
1. I graduated from Georgia Institute of Technology with a PhD in aerospace engineering. My thesis was on certain features of channel wall erosion in Hall Effect Thrusters.
2. I moved to Cleveland OH from Atlanta GA. I survived. This time all of my furniture survived the trip.
3. I am now renting an awesome house in Parma Heights.
4. I have started work as an "Aerospace Technologist" at NASA Glenn Research center. I will be working on the European Service Module portion of the Orion project.
Below is a photo of my swearing-in ceremony.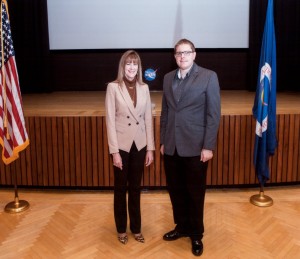 I now have a lot of time in the evenings though, and on weekends. I'll have to get into the habit of seriously pursuing my hobbies again.